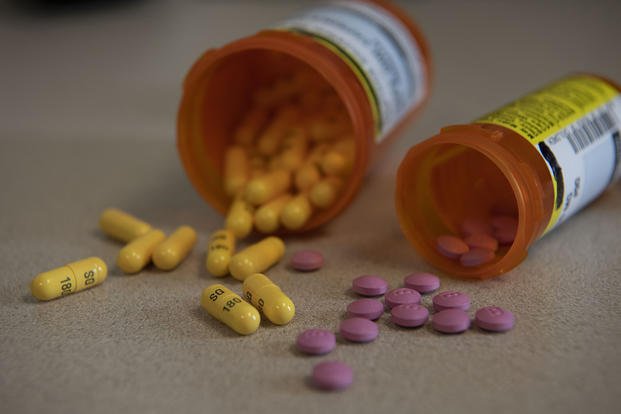 Walmart says it was taken aback by its ouster from the Tricare network
Days before Tricare's pharmacy benefits manager Express Scripts announced Walmart was leaving the Tricare network, the retail giant signed a "multi-year" agreement to stay, according to a company spokesperson. .
The spokesperson said Friday evening that Walmart was "surprised" to learn that its pharmacy contract had been terminated, adding that the company and Express Scripts had signed an agreement on September 30 to keep it in the network.
"We appreciate our Tricare and [Defense Department] customers and are disappointed with Express Script [sic] decision and we asked them for more information to understand their decision, "said Luke Kleyn, vice president of Walmart, in an email to Military.com." We asked Express Scripts to honor the agreement which we both recently signed. "
Kleyn said the new contract would have allowed military beneficiaries to continue all of their prescriptions at Walmart and Sam's Club "for the next several years."
"We hope to reach a resolution to continue as a pharmacy supplier for the Tricare network," he added.
A spokesperson for Express Scripts did not directly respond to Military.com's questions about the negotiations and the deal described by the Walmart executive, but released a statement citing the pricing as the reasoning behind its ending. relationship with Walmart.
"Walmart's prices weren't competitive enough to stay in the network and we're phasing them out effective Dec. 15, 2021," spokeswoman Jennifer Luddy said in an email. She said more than 6% of Tricare beneficiaries fill prescriptions at Walmart or Sam's Club, which means about 600,000 people have used the stores for their drugs.
She added that Express Scripts "helps beneficiaries make a smooth transition."
Tricare covers 9.6 million beneficiaries worldwide.
Read more : The Marine Corps makes it clear: get the vaccine or get out
Walmart first signed an agreement with Express Scripts in 2018 to provide branded prescription drugs to beneficiaries who use Tricare and other insurance plans that use the pharmacy benefits management company.
Walmart also provides many generic drugs to all customers – regardless of insurance – through a program that provides 30-day prescriptions for $ 4 and 90-day prescriptions for $ 10.
Military beneficiaries will still be able to use this program even if Walmart leaves the network, company officials said.
But the change means prescriptions for branded and specialty drugs not offered through Walmart's discount program will be considered off-grid. Beneficiaries will need to pay the full cost of their medications up front and file a claim with Tricare for partial reimbursement.
Last week, Express Scripts began advising Tricare beneficiaries who use Walmart or Sam's Club pharmacies that their stores will no longer be part of their retail pharmacy network as of December 15.
The letter includes three local network pharmacy options and instructions on how to transfer prescriptions.
Those filling specialty medications at Walmart or Sam's Club will also receive a letter and phone call from Express Scripts to help them transfer their prescriptions.
According to Express Scripts, these recipients will have a 30-day grace period to transfer their prescriptions.
As Manager of Pharmacy Benefits, Express Scripts serves as an intermediary, overseeing the Defense Health Agency's pharmacy program, including management of the retail pharmacy network, Tricare mail order pharmacy, claims reimbursement and support services for beneficiaries and the pharmacy.
In July, the Defense Department awarded Express Scripts a contract worth up to $ 4.3 billion over the next seven years to continue as Tricare's pharmacy benefits manager.
Luddy said Monday that pharmacies are setting reimbursement rates for drugs and that Express Scripts negotiates discounts, performing "ongoing assessments of the network to ensure the best value and care for the Department of Defense, beneficiaries and patients. taxpayers, and to pass more savings on to government. "
Express Scripts also announced last week that CVS would return to the Tricare network after a five-year hiatus.
Walmart and Sam's Club operate approximately 5,300 pharmacies nationwide, many in rural areas, while CVS has nearly 10,000 locations.
"This change offers more competitive rates for Tricare pharmacy benefits and expands the choices of quality and convenient pharmacies nationwide," Luddy said in a statement to Military.com.
Access to Walmart pharmacies has been particularly convenient for military families and retirees who live in rural or remote areas who may not have a chain drugstore. Additionally, many have come to rely on discounted generic drugs, which are offered at lower rates than Tricare co-payments.
In a blog post last week, Karen Ruedisueli, director of government relations for health affairs at the Military Officers Association of America, said her organization believed the change would maintain the quality of the Tricare pharmacy program and might even 'improve for many beneficiaries.
"We understand that families filling prescriptions at Walmart or Sam's Club will be embarrassed, but others will be excited to have CVS again as an option for their prescription drugs," Ruedisueli wrote.
Pharmacy quotas have increased dramatically over the past 10 years, largely due to cost, but also as demanded by Congress as part of a cost-cutting measure to the defense medical budget.
This year, Tricare beneficiaries are paying $ 11 for a 30-day supply for a generic drug and $ 33 for a brand-name drug at retail pharmacies. Drugs not listed on the formulary that are not on Tricare's list of covered drugs cost $ 60.
Co-payments for the mail-order pharmacy are $ 10 for a generic prescription and $ 29 for a brand name drug for a 90-day script. And rates are expected to rise next year.
According to Express Scripts, the Tricare pharmacy network covers 56,000 stores, including chains such as Walgreens and Rite Aid and supermarkets like Kroger and Publix.
–Patricia Kime can be contacted at Patricia.Kime@Military.com. Follow her on Twitter @patriciakime.
Related: Defense Health Agency says $ 1.8 billion in cash flow will run out due to pandemic
View full article
© Copyright 2021 Military.com. All rights reserved. This material may not be published, broadcast, rewritten or redistributed.