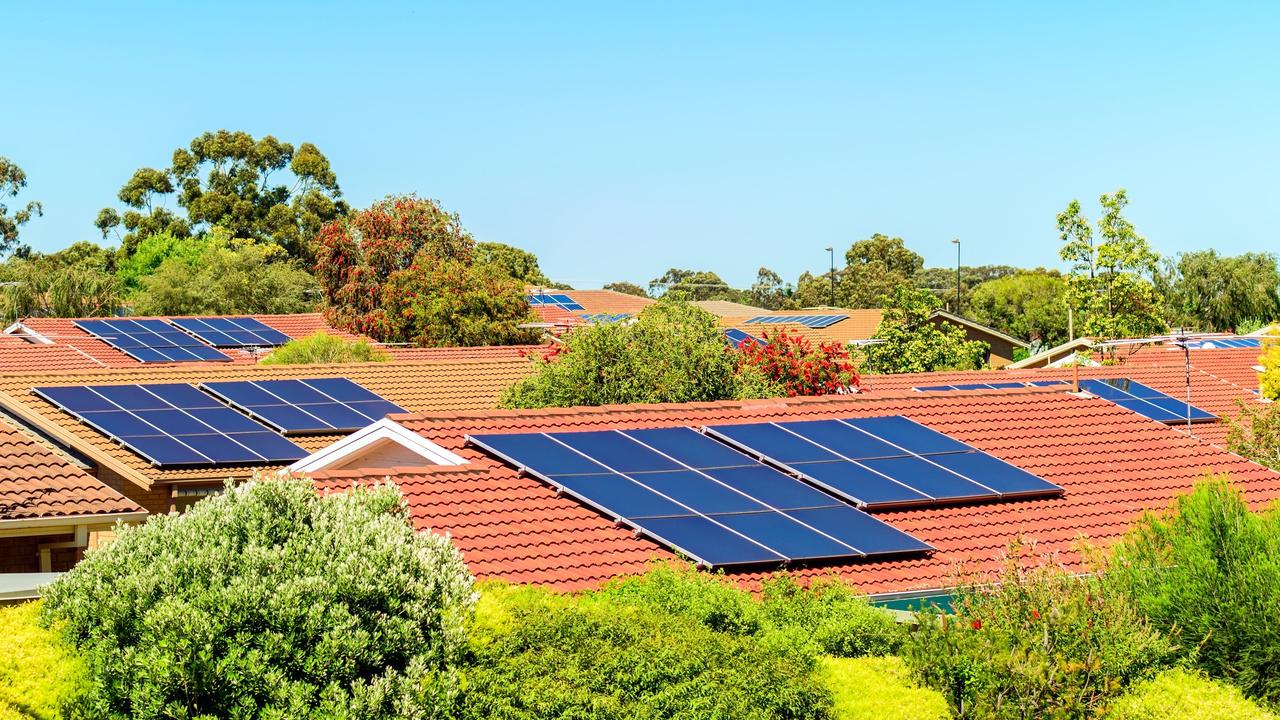 Renewables on the rise as household energy bills soar
Environmental experts say ditching gas is the new way to save both the earth and your bills. But if you don't have solar, you will lose big.
In the midst of a fuel and power crisis and rising interest and inflation rates, trying to manage your home energy bills can be daunting.
And as Australia remains on track to generate half of the country's electricity from renewable resources, environmental experts will tell you that the best decision is to switch to a gas-free lifestyle.
However, a combination of pandemic chaos, international fuel supply disruptions like the war in Ukraine and accelerated shutdowns of coal-fired power stations in Australia has seen household energy bills soar along with other pressures. on the cost of living.
So, as the future of eco-friendly living becomes more tangible and Australians face the immediate impacts of the energy crisis, Finder Senior Financial Writer Sarah Megginson, says going electric is not a "one size fits all" answer.
In fact, for many homeowners, the answer may lie in conservative budgeting practices and reevaluating your energy supplier.
Can you actually save by switching?
If you have solar panels, yes. If you don't, certainly not in the short term.
But that doesn't mean you never will.
It also depends on whether you are looking to renovate your existing home or are looking to decide which way to go when building your new home.
Now more than ever, the push to invest in renewables is strong with discounts on solar panels and "green bank" financing options making it easier than ever to build a green home.
But factors such as the cost of installing solar panels, upgrading electrical appliances, and even lifestyle choices like preferring to cook with gas all influence the immediate profitability of the switch.
And while installing solar panels may be cheaper than when they were deployed 20 years ago, up to $6,000 per panel is still a hefty sum to shell out all at once.
However, more and more banks are offering "green banking" options, including discounted home loans for those looking to install solar panels on their new home, which can help homeowners and builders save money. thousands of dollars on their mortgage.
"CommBank is a bit of a leader in this area, so they offer rate reduction in different ways," Ms Megginson said.
"So if you want to do something like add solar panels, they'll let you borrow the money you need for that."
And to really reap the benefits of lower costs, home builders should look to build their homes with energy-efficient electrical appliances like furnaces and heaters.
Mariam Gabaji, senior energy writer at Finder, found that the cost of setting up a gas connection was higher than electricity and would cost you between $1,200 and $5,000 or more. .
And according to data analyzed by Renew, a 200 square meter detached house built with solar panels, efficient appliances and no gas hook-up would save $1,859.75 a year on energy bills compared to their counterparts. connected to gas and without solar energy.
But while electrics may be cheaper to install, the cost of running your home on electricity alone in New South Wales is almost double the cost of running it on gas.
But for homeowners buying pre-existing homes, you may not always have the ability — or the budget — to add solar panels or retrofit your home to take advantage of those "green banking" rebates.
Not all sunshine and rainbows for homeowners
Even if you have solar panels, the time and cost to upgrade your home with electrical appliances like ovens and heaters are additional expenses on top of paying off a mortgage.
And for those whose homes aren't suitable for installing solar panels, the cost of running your home on electricity alone doesn't have the added benefit of being subsidized.
Ms Megginson also explained that in the current inflationary environment – without solar panels – the reality is that many cannot afford to switch to electricity at the moment.
"It's a very difficult time right now, literally everything is going up – from gas, to energy, to groceries…and I don't think anyone can avoid it," Ms Megginson said.
"Our research shows that people are spending huge amounts of money on their bills and that stress around energy bills in particular has become a very big issue for people."
Finder's latest Consumer Sentiment Tracker found that 28% of Australians, the equivalent of 5.4 million people, said their energy bill was among the top three stressful expenses.
But that's not all bad news for homeowners looking to save on their energy bills, especially since the current price increases come after a relatively long period of low energy costs.
"On the plus side, we had historically low energy bills for quite a while until the end of last year… some parts of the country were actually the cheapest in several years," Ms Megginson said.
"So in terms of being able to save your money or keep energy costs down, the most important thing is to make sure you stick to your budget.
"That means making sure to set a budget, figure out exactly what living is costing you and how much you're spending, and looking for opportunities to save."
And threatening your current energy provider with offering you more competitive deals might be the best way to do it.
"The deal you're on now might have been a good deal when you signed up two, three or five years ago, but it's not competitive now," he said. she adds.
"So contact your existing energy provider to see if you can get a better deal – it sucks, but sometimes threatening to leave can actually get you a better deal."
The evolution of the Australian energy market
Prime Minister Anthony Albanese has pledged to make Australia a renewable energy 'superpower'.
After announcing that the country will seek to achieve a 43% reduction in emissions by 2030 and generate 82% of the country's energy market from renewable resources, the question is what impact this will have on your bills. housework ?
As Australia seeks to move towards a future supported by renewables, investing in building your home with renewables in mind or investing slowly in renovating your current home seems like the best way to transition to a market renewable energy at lower cost.
As the Australian government seeks to accelerate the entry of cheap renewables into the market and invest in compatible infrastructure, Ms Megginson said making the change now was about reaping the benefits in the future.
"The problem with renewable energy is that we know it's not only better for the environment, but it's also the most cost-effective form of energy and power generation," said she declared.
"One of the reasons it's been so expensive to transition there is because of all the infrastructure that comes with it…as an industry, (the energy sector) is doing now huge investments that will pay off."
"So we hope to see that the impact on daily household energy bills is that they would start to come down because renewable energy is a cheaper source of energy to produce."
According to a new report from the Australian Academy of Technological Sciences and Engineering (AATSE), renewables were "heading towards" producing 50% of Australia's energy by 2025, with the rate rising to 69% by 2030, even reaching 100%. hundred to time periods by 2050.
"Australia is in the throes of an energy crisis, with electricity generation prices around 115% higher than the previous highest average wholesale price on record," the report said.
"Meanwhile, all states are hitting record highs for renewable energy powering our electric system.
"Determining how these technologies will work together to decarbonise energy systems, deliver new economic opportunities and meet the needs of Australian industries, communities and people is critical."
However, the hopeful forecast is entirely dependent on immediate investment in renewable energy infrastructure, including backup generator services such as pumped hydro and batteries, with gas-generated electricity maintained as security net.