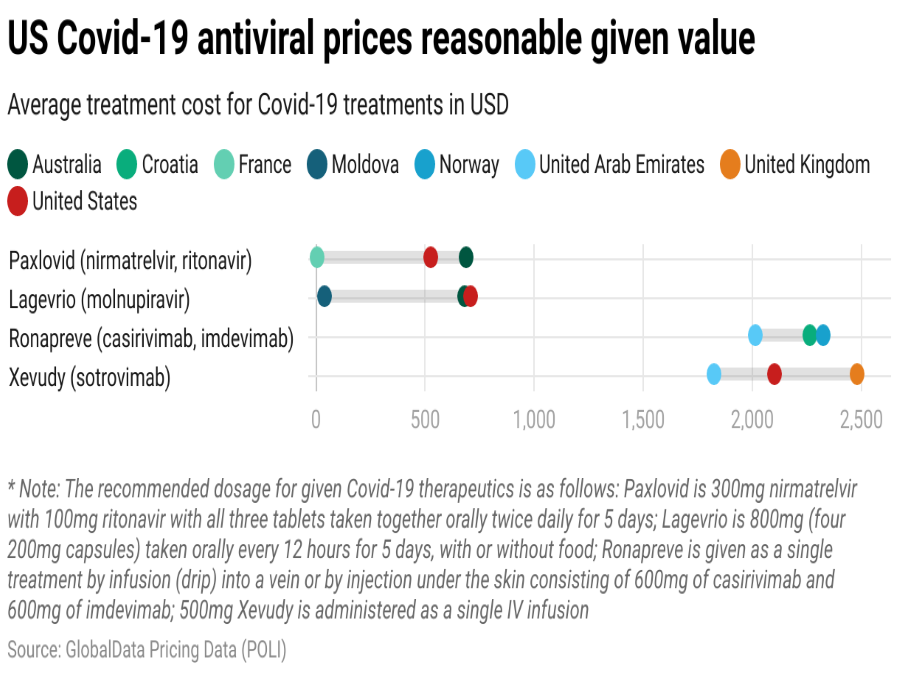 New Covid-19 antivirals at a reasonable price according to ICER
For its latest high-profile review, the US Institute for Clinical and Economic Review (ICER) concluded that the three COVID-19 pills it reviewed all represented good value for money. This is extremely unusual, as a recent GlobalData review of ICER ratings found that only 10% of the drugs reviewed were within ICER's break-even point. ICER Chairman Steven Pearson said a key takeaway from this assessment is that US government involvement in price negotiation through the Advance Purchase Agreement (APA) framework has been effective in reducing the financial uncertainty that might have deterred manufacturers from bringing a drug to market, and ultimately resulted in the availability of multiple drugs in a relatively short time at prices aligned with their clinical benefits.
The three drugs, Lagevrio (molnupiravir), Paxlovid (nirmatrelvir/ritonavir) and fluvoxamine, have been evaluated for the treatment of mild to moderate COVID-19 in patients at high risk of progression to severe disease. Lagevrio and Paxlovid are available under FDA Emergency Use Authorization (EUA). An EUA for the now generic fluvoxamine was declined on May 16, 2022, due to insufficient efficacy data.
Cost of treatment between $529 and $707 deemed reasonable
In its final evidence report, released May 10, ICER concluded that Pfizer's Paxlovid (nirmatrelvir + ritonavir) and fluvoxamine both demonstrated a net health benefit, while Merck's Lagevrio (molnupiravir) did not. .
Specifically, the prices of the three drugs were found to be reasonable. Uniquely, prices for COVID-19 drugs are not freely set by the company but are the product of price negotiations with the US government, at least for Paxlovid and Lagevrio. According to ICER, the cost per treatment for Lagevrio is $707, the cost for Paxlovid is $529, and the cost for fluvoxamine is $12.
At these current prices, ICER concluded that the three drugs appear to have prices that are reasonably aligned with patient benefits and are below ICER's health benefit benchmark price level, which is derived from cost-effectiveness modeling. Given the uncertainty regarding the net health benefits of Lagevrio, the majority of the panel voted that it represents "low to intermediate" long-term value for money. Fluvoxamine was found to have an "intermediate to high" long-term value for money. The panel voted that Paxlovid represents "high" long-term value. It has been noted, however, that Paxlovid has demonstrated drug interactions that may limit its use.
Comparison of global costs highlights huge differences
The competitive landscape for COVID-19 treatments has changed in the time it took ICER to conduct the review, and other oral and infusion treatments are now available worldwide. In particular, two monoclonal antibody treatments, Ronapreve (casirivimab/imdevimab) and Xevudy (sotrovimab), have been deployed in a few markets, and the latter is now available under an EUA in the United States.
Pricing data from GlobalData suggests huge discrepancies between markets as well as between treatments. Many countries have entered into a confidential pricing agreement with manufacturers of COVID-19 drugs prior to marketing authorization and launch. And now that these treatments are gradually being rolled out, we can take a look at their prices. Our data suggests that a full treatment cost for brand new drugs in the COVID-19 space ranges from $8.98 for Paxlovid in France to $2,480 for Xevudy in the UK.
With an average treatment cost of $2,200, monoclonal antibodies licensed for use against COVID-19 are priced significantly higher than Paxlovid and Lagevrio, which cost no more than $688 in Australia and $707 in the States. States, respectively. For Paxlovid and Lagevrio, cost data extracted from our POLI database echoes the opinion of ICER and suggests that the cost of a full course of treatment in the United States is quite reasonable compared to other markets and treatments. This is the result of a favorable purchase agreement sealed between the federal government and drug manufacturers, in a country commonly used to rank in the top tier markets in terms of drug prices.
Click here to access GlobalData's market access and pricing services